An outdoor kitchen is a space where you can cook, entertain, and make meals while taking in the fresh air. Your sitting room is enlarged to include the outside area. Regardless of how special your needs are, an outdoor kitchen can be whatever suits you and your way of life.
Before starting the installation, outdoor kitchen building demands careful planning and design. It is crucial to consider the available room, the kitchen's intended use, and the layout. A well-designed outdoor kitchen should have areas for preparing, prepping food, and interacting with family, friends, and visitors.
If you have been wanting to get an outdoor kitchen installed, but are clueless about where to start or whether it is worth the investment, then you have landed at the right place. Here we will discuss in detail outdoor kitchens, their advantages, and disadvantages, and give you outdoor kitchen ideas so that you can weigh your options and decide what's best.
The Benefits Of Outdoor Kitchens
Large-space homeowners are currently building bigger outdoor kitchens and adding more components to them. This fits into a larger pattern where consumers are spending more money on the exterior of their homes, turning the backyard into an additional living area. However, it is not important that just because everyone is getting outdoor kitchens so you should get one too. Here are some of the undeniable benefits of outdoor kitchens that you might want to consider before getting one.
Extended Entertainment Area: Outdoor kitchens help in making cooking simpler and more fun for everybody by involving the family or inviting friends and neighbors to cook with you. Everyone at the table will remember the experience of preparing dinner together and then enjoying the results in the great outdoors. It is also a fantastic idea if you want to avoid having a crowded house during a party.
Reduced Energy Costs: An outdoor kitchen is, as the name implies, a space constructed outside for cooking that is frequently disregarded as a tool for energy conservation. The finest energy-saving tools do cost a modest startup sum, though.  It keeps the air inside cool and lowers energy costs to be able to grill and prepare food outside in the warmth.
Enhances the Value of Your Home: The appeal of outdoor rooms and kitchens is rising, particularly in regions where it is possible to eat outdoors for most of the year. As a result, installing an outdoor kitchen might increase the value of your house, enabling you to sell it for a higher price. If an outdoor kitchen is a feature that is uncommon among the homes in your neighborhood, it might also make your home stick out.
No More Crowding The House: With an outdoor kitchen, there is less concern about kids consuming materials not intended for human consumption or destroying the surface. Hosting events is easy thanks to outdoor living spaces. When you're ready to cook, fire up the grill and take advantage of the fresh air and breeze. When you're finished, come inside to a cool, comfortable house with a clean kitchen.
Top Outdoor Kitchen Ideas For Your Home
Travel In Time With A Mediterranean Design
Use limestone for the sink and similar marble for the countertop to provide the kitchen a rustic look along with rock walls to make add a Mediterranean look to it. This is one of the best outdoor kitchen ideas for people who neither want a minimalist nor a maximalist kitchen. This design has just the right amount of style, and edge and will go well with almost all kinds of home exteriors, hence making it one of the most amazing outdoor kitchen ideas.
Add Spice To Your Outdoor Kitchen With A Fireplace
To achieve this design of outdoor kitchens, it is advisable to build the countertop on both sides of the fireplace and put a large dining table in front of it. This will allow people to access the kitchen while lounging, making it one of the most beautiful outdoor kitchen design ideas, making it one of the greatest outdoor kitchen ideas. Another way to incorporate a fireplace in your outdoor kitchen is to build an L-shaped counter with the fireplace in the corner so that people who don't want much heat can sit away from the fire.
Reach New Heights With A Rooftop Kitchen
Who said that an outdoor kitchen can only be built in the backyard or patio? This is a very unique and creative way to utilize the extra space on your terrace while adding an extended entertainment area in the house. You can add a semi-enclosed roof made of bamboo or any other material that goes well with your choice of decor. This is one of the top outdoor kitchen ideas and also my personal favorite, because what can be better than enjoying a hearty meal with your loved ones while watching the sunset?
Who Wouldn't Like Pizza?!
The pinnacle of outdoor cooking and socializing is represented by this design. This custom outdoor kitchen design is where it's at if you want outdoor kitchen ideas that make you the envy of the community. A grill, double side burner, small pizza oven, and refreshment center are available as tools. For greater functionality and organization, affix a drop-in cooler and a cutting block to the sink. Many individuals might find the outdoor kitchen to be a deal-breaker solely because the pizza oven is not a very common feature found in most houses.
Go Minimalist With A Straight Island
This is one of the most simple and chic outdoor kitchen ideas which can be brought to life in any type of place. You can get this design of an outdoor kitchen built in the backyard, the terrace, or the patio. It is minimalistic, functional, and smart, making it one of the greatest outdoor kitchen ideas for people with minimal taste.
Unique & Creative Poolside Kitchen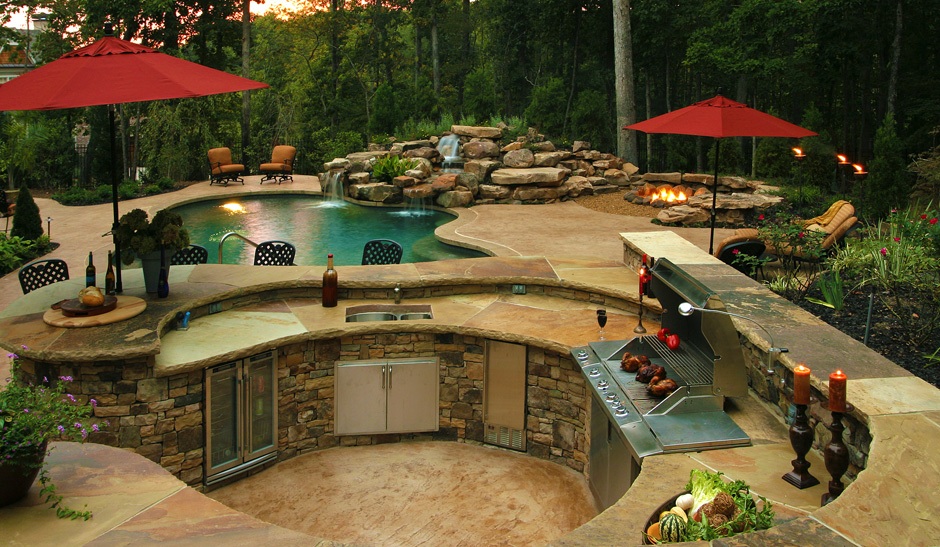 Adding an outdoor kitchen to the poolside along with a grill and a fireplace is one of the most attractive outdoor kitchen ideas for people who like to party it up every weekend. You can get a bartending counter installed in this area to make it more lavish and perfect for house parties.
Important Factors To Consider Before Getting An Outdoor Kitchen
Budget & Location: It's crucial to set and adhere to a reasonable budget. If not, buying tends to spiral out of control. Make sure that each item is included for every component of the kitchen, including the cabinets, countertops, furniture, lighting, electricity, appliances, etc.
Take into account the environment and temperature where the house is. Both will significantly affect the layout, components, and duration of the outdoor kitchen's open season. Every environment has its own particular problems and remedies.
Efficiency & Designs: Think about how well your outdoor cooking works. Refrigeration and ice makers have their own dedicated cold section, whereas cooking equipment has its own hot area. A sink and/or a bar stand are located in the wet room. The dry section is used for meal preparation and additional counter space. Keep utilities in mind when deciding where to put zones.
Ensure that there is access to water, electricity, and gas. There is a plethora of options available when it comes to outdoor kitchen ideas. This is why it is extremely crucial that you choose a design that is not just appealing to the eye, but is also compatible with the layout of your home, making it functional and efficient.
Seating & Storage Space: This is one of the most important factors to consider before getting an outdoor kitchen installed. There should be proper lighting for dinner plans, Consider a big, low table where guests can place their plates and beverages while mingling. For casual gatherings, place an island with bar stools close to the cooking and serving stations. Where space allows, create multiple eating and drinking areas throughout the outdoor space.
It is very important to consider where you will store the utensils, hand appliances, and stuff when getting an outdoor kitchen installed. It will not be a dust-proof area hence, you will have to use utensils properly for the occasion and keep them stored inside cabinets to avoid getting them all dirty.
Frequently Asked Questions About Outdoor Kitchen Ideas
1. What is the most affordable method to construct an outdoor kitchen?
Working with salvaged materials like old lumber or repurposed stone and brick is one of the best methods to construct an outdoor kitchen on a budget. They are more environmentally friendly and less costly than fresh supplies.
2. What kind of surface is ideal for an outdoor kitchen?
Natural stone, concrete, or tile are your finest options. Speak to the manufacturer first if you have your heart fixed on a manufactured countertop like quartz or recycled glass. The color of the counter may change over time if subjected to UV rays because the majority of them use pigments that are not made to withstand outdoor use.
3. How long will an outdoor kitchen last?
An outdoor kitchen's durability is based on the caliber of the materials used, the caliber of the installation or construction work, and the regularity of upkeep. If everything is done correctly, your outdoor cooking should last at least ten years. Some have existed for considerably longer.
Conclusion
Outdoor kitchen ideas are the best for adding an extra element to your house and also increasing its value. Various designs for backyard kitchens have been examined. I hope by now your creative thoughts are running! Be aware that this is only a tiny representation of the possibilities. Hopefully, all your queries regarding outdoor kitchen ideas have been solved here.