Floating shelves are a great way to include elegant yet functional designs in your modern and minimalistic style house. They can be used to increase storage capacity, serve as storage and a console table in a corridor, or sit atop a radiator. Hidden installation gear is usually used to connect a floating shelf to the wall so that it hangs on the wall without any noticeable support. The end result is a tidy, clear appearance that can contribute to the airy, spacious feeling of a space.
With just two components and no obvious supports, a floating shelf is powerful, simple to construct, and functional. Beautiful, simple to construct, and reasonably priced these bookcases. However, despite lacking any obvious support, they are sturdy. Having no bulky hardware or brackets, they seem to hover on the wall. If you have been wanting to get floating shelves installed in your house but cannot decide on one design, you have landed at the right place. Here you will find some of the most popular and efficient floating shelf ideas to include in your contemporary or minimalistic style home.
Benefits Of Having Floating Shelves
Installing a floating shelf yourself is simple. They're actually most likely the simplest solution to quickly improve your storage capacity without having to purchase a new, large piece of furniture. They also function regardless of the amount of wall space you have because they only truly need vertical space. A floating shelf not only ensures that everything you need is close at hand, but they also look excellent. Not to mention that they give otherwise flat walls dimension. Let us take a look at the perks of floating storage shelves in a little more detail.
Adds A Personalized Touch To The Home: Incorporating uniqueness is one of the best ways to differentiate your home from the competition and give it a cozy feel. Give your house some personality so that it can speak for the people who reside there without you having to say a word. As good for your décor as it is to make an impact on your visitors, giving your space identity is important.
No More Empty Walls Or Corners: There can be quite a lot of unused space on the walls and the corners, after all, one can only put up so many pictures in the house.
Affordable: The materials needed to construct and modify floating shelves are significantly less costly since they don't have tops, sides, or doors. They don't need as much structural support because they are also lighter in weight. They can be installed more quickly and easily as a result, which reduces the expense.
Keeps Everything Organized: Incorporating floating racks also has the strong benefit of simplifying the decluttering process. Instead of stacking them in cabinets, it is more practical to store items you use regularly on the shelf. Floating shelves are very helpful in almost every area and have a straightforward yet effective design. Where it would otherwise be impossible to store items, these shelves add more storage room. They can be used to make use of the area behind doorways or around corners. Altogether, they produce stowage areas that appear more pristine, well-organized, and elegant.
Click here to find Ikea floating shelves in Australia.
The Best Floating Shelf Ideas In Your Home
1. Cooking Made Convenient
Installing floating wooden or metal shelves in the kitchen is a great idea to make working there fun and much more convenient. They make it simpler to access objects while cooking and cleaning than enclosed cabinets would, and they also provide an additional perch for displaying décor in a room that is otherwise task-focused.
2. Camouflage The Shelves
Painting the white floating shelves the same color as the wall you are going to install them in will create a spacious look in the room. If you're working with a smaller area and want your floating wall shelves to blend in rather than draw attention, this is one of the best solutions. One example of this is installing white custom floating shelves on a white wall of a similar or any other close shade of white.
3. Choose A Bold Accent Wall
If you want to add some creative element to any room in your house, adding floating board shelves on a bold-colored wall is a great idea. They will not only make the place look beautiful, but also enable you to utilize an area that might otherwise go unused.
4. Add Quirkiness With Asymmetrical Shelves
If you have several floating shelf boards, think about placing them asymmetrically and subtly separated. Position your shelves in a horizontal line, with the center shelf either above or below the others, if you have three of them. Each rack should be installed using a level to ensure absolute straightness. This style will add some edge to the interior and also give it a personalized touch.
5. Use The Corners
Showcase your collectibles on a floating shelf that is open. Even if you keep all of your basic supplies hidden, a floating shelf setting can showcase décor to add flair to a purely practical space in any room. Placing these shelves in the corner allows you to have more practical space while using them efficiently.
6. Dedicated To Decor
To add plenty of surface area for showcasing cherished items, a floating shelf works best when installed on either side of the fireplace. These shelves are entirely for decoration, not for storage in a kitchen or restroom. In a gallery-style display, a color scheme that is neutral makes the various items feel coordinated.
7. Do Not Miss The Bathroom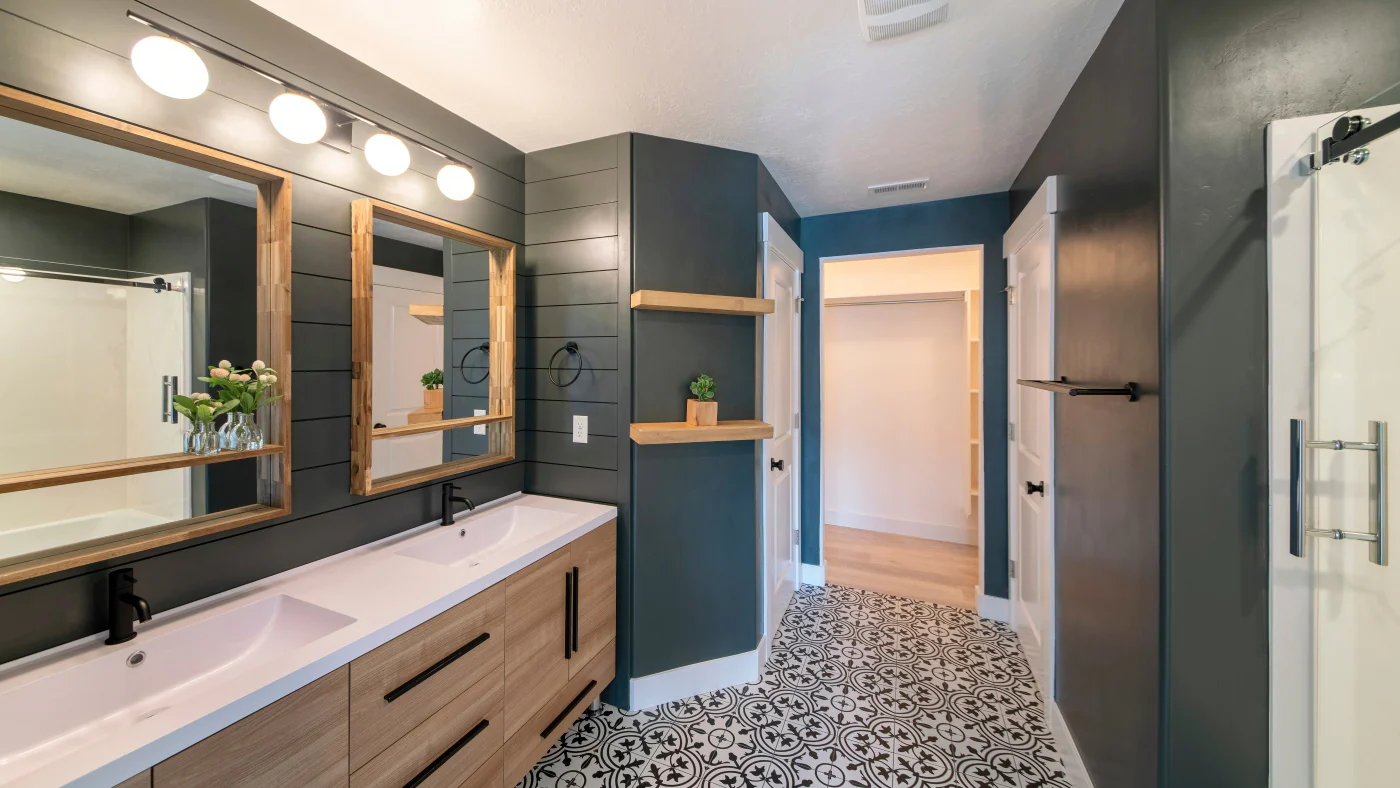 Installing small floating wooden shelves in the bathroom is not only practical but also a very creative idea. To handle the surplus of toiletries, add shelves to the bathroom walls if your sink vanity is lacking in storage or if you simply need more space. This idea does not require a lot of help and would make a fun activity to diy floating shelves at your home.
8. Make A Statement
Placing straight, orderly rows of floating wooden panels filled with your preferred decor is a great way to add depth to a room that is mostly made up of muted tones and clean, sharp lines without drawing attention away from the sleek look. Add color-coded books that are arranged horizontally rather than vertically in this area. Use symmetry as part of the subtle design to break up the layers with trinkets.
9. Functionality In The Bedroom
Floating panels allow you to keep essentials nearby while keeping other areas, such as bedside tables and dressers, uncluttered in bedrooms. They can be especially useful in tiny bedrooms with insufficient storage. You can even hang the shelves instead of a conventional nightstand for a sleek appearance in a small space.
10. Do Not Miss Out On The Pantry
Floating racks are used for more than just decoration. They can be useful for keeping things visible and accessible in a pantry.
Click here to find some of the best-floating shelf materials in Australia.
Frequently Asked Questions About Floating Shelf Ideas
How much weight can a floating shelf carry?
Depending on where you place it and how large it is, your floating shelf can support a certain amount of weight. The strongest shelves can support up to 100 pounds or more, while the flimsiest shelves can only support 25 pounds.
Will the wall be harmed by the floating shelf?
In actuality, their effective mounting technique is what gives these bookcases their seemingly floating appearance. Most of the floating shelves are equipped with tiny 2-centimeter or 3.5-cm brackets, which only need a tiny hole to be installed on your wall.
How to install floating wall shelves?
Without a doubt, wall studs are the ideal place to anchor floating shelves. If required, you could also connect them to drywall or plasterboard. If you choose to go this route, just be sure to have the right wall anchors (also known as molly plugs) for the possible load of the shelf.
Conclusion
A floating bench is strong, easy to build, and practical. These bookcases are lovely, easy to build, and fairly priced. You can discover some of the most well-liked and practical floating shelf designs for your modern or minimalist home right here. We believe that all your queries regarding the benefits and usage of floating shelves have been answered and you found some good ideas for your home.